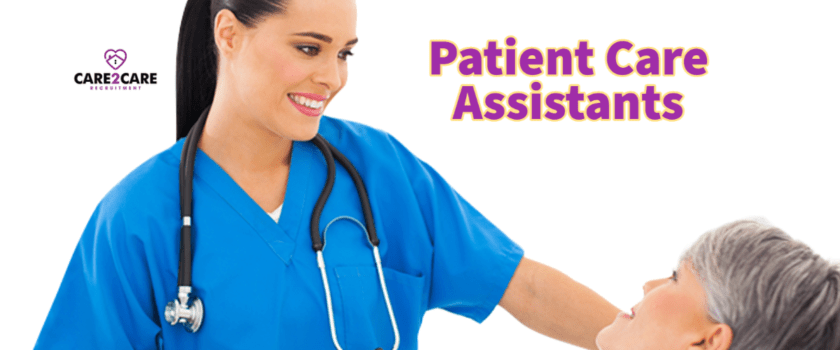 A patient care assistant is someone who helps provide care and support services to patients in a hospital, a healthcare facility or a rehabilitation center. Just like health care assistants, these assistants help the patients with their day to day activities and assist them in personal care for example showering, dressing and eating. 
They help the patients move around, inside or outside the facility by pushing their wheelchair or beds for bedridden patients. A patient health care assistant may also perform other manual support tasks when asked to, by the medical professionals. Things like lifting the patient up, helping them turn over, re-positioning them and helping make their beds. 
Their work may also include using hospital strength cleaning agents to maintain the cleanliness and infection control standards. Also, they need to have flexible schedules and should be open to working in all shifts because health care needs 24 hours. A part of their job is to make sure that the person they are taking care of, stays stress-free and satisfied.
Where do Patient Care Assistants work?
Normally, senior care assistants work inside a hospital or a healthcare facility, so it's mostly indoors. They work on the frontline of care delivery, and alongside medical professionals.

How to Become a Care Assistant?
Those wanting to pursue a career in the Care industry do not normally need a specific qualification for it and usually get training while working on the job. However, having a degree in health support services or health services assistance can increase the chances of getting hired as a health care assistant.
Luckily, there is also a thing known as an internship in health service assistance or health support services so that makes it not very difficult to get a job as a patient carer.
What knowledge does a Senior Care Assistant need to have?
For starters, anyone wishing to become a carer at a healthcare facility must be familiar with the medical terminology and shall possess a sound knowledge of diseases and medical procedures. One who wishes to come into this line of work should know the basic first aid and CPR, they should be able to administer them if the need arises.
They should be selfless and put others' needs first and have the willingness to take care of others' health and well-being. Another thing is that they should possess good physical strength, as patients need lifting up as well.
They should know that they are going to be taking care of an adult with feelings and emotions, so being kind and considerate is also very important. Above all that, having knowledge of medicines, how to read patients' reports and administering injections is also important, but that is something that one can learn during training. 
Who needs to hire a Patient Care Assistant?
The elderly, with or without any underlying health problem, the disabled, those who do not have anyone to look after them, or just people who find it difficult to carry out their everyday self-care. It is not just limited to those cases.
However, a person can be needing a health care assistant for a short term period as well as for a long term. It varies from situation to situation and respective needs.
Is this a good job?
For someone who likes serving others, it can be a very satisfying job and in the UK, it pays approximately between £8.50 to £9.50 hourly. Another perk is that it's a respectable job. You get all the satisfaction and fulfillment while working for another individual, taking care of them in every possible way. 
A health care worker enjoys his respect in a society essentially because of his trade. 
Care2Care Recruitment makes sure every person associated with us gets the joy of fulfilling their life's purpose. We make sure we hire the right people for you!